Home Hero Kitchen Utensil Set - 23 Nylon Cooking Utensils - Kitchen Utensils with Spatula - Kitchen Gadgets Cookware Set - Best Kitchen Tool Set
Mô tả
23 NYLON COOKING UTENSILS - Utensil Set includes everything you need to cook that perfect dish

HIGH QUALITY THAT LASTS - These kitchen gadgets are made to stand the test of time. Top of the range 430 stainless steel handles provide greater durability than other plastic kitchen utensil sets

PERFECT FOR NON-STICK - Nylon heads prevent these kitchen tools from scratching and damaging expensive non-stick pots and pans

BEST VALUE FOR MONEY AROUND - this fully comprehensive high quality utensil set is available at an incredibly low price

CUSTOMER SERVICE - Please, if you have any questions or issues regarding the Home Hero kitchen utensils set please do not hesitate to send the seller a message through Amazon we will respond within 24 hours.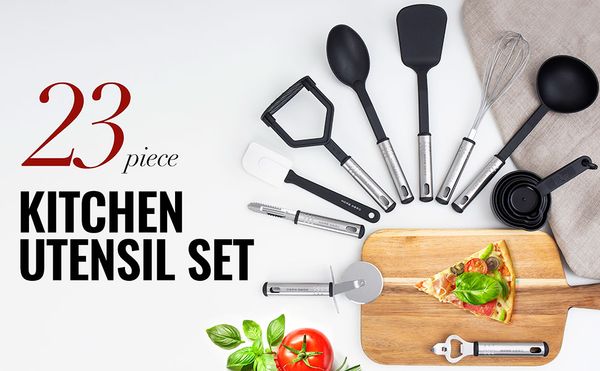 Everything you need in one single set
___________
With our premium 23-piece high-quality utensil set, you have everything at hand you need for cooking, no matter what dish you are planning to make. It features the most extensive selection of cooking utensils currently on the market.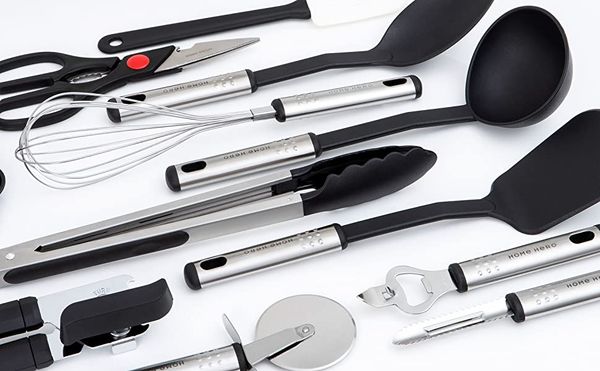 Cooking with style
___________
The simple yet modern design of our utensil set fits perfectly in any kitchen and easily matches the style of any other items or appliances. Got a new neighbour or it is your mom's birthday? The stylish set comes in a nice box and thus makes the perfect gift for many occasions.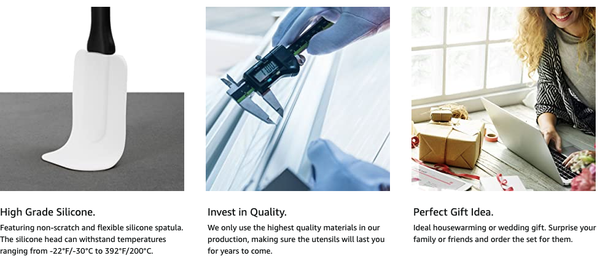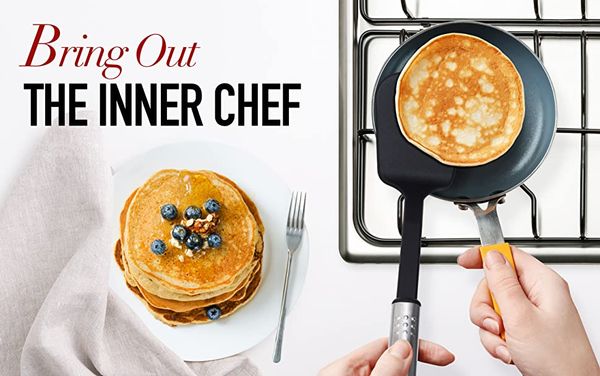 Be The Hero In Your Home.
___________
Its classic silver and black look goes with any kitchen & the variety of kitchen tools ensures any cook has exactly what is needed at hand for the perfect meal every time.
What's in the box?
___________

Whisk

Solid spoon, Solid turner

Soup ladle

Potato pusher

Grater and Peeler

Tongs and Spatula

Measuring spoons and cups

Can opener, Bottle opener

Scissor

Pizza cutter
Product information
Product Dimensions
14.7 x 4.6 x 6 inches
Item Weight
2.45 pounds
Manufacturer
Home Hero
ASIN
B075MDQ977
Item model number
Nylon Utensil Set
Customer Reviews

4.4 out of 5 stars
Best Sellers Rank
#704 in Kitchen & Dining (See Top 100 in Kitchen & Dining)
#2 in Cooking Utensil Sets
Lưu ý: Đây là sản phẩm không có sẵn tại Việt Nam, hàng chờ order từ USA về VN mất từ 2-3 tuần - Khách cần liên hệ qua Fanpage: Tilashouse hoặc Hotline: 0934562607 để được tư vấn quy trình đặt hàng.