COOFO Vacuum Pore Cleaner Acne Comedone Extractor
-17%
1,180,000₫
1,430,000₫
Mô tả
✔HIGH QUALITY:2018 upgraded blackhead remover has the capability of stronger suction and deeper cleansing of the skin. Innovative vacuum technology will not harm your skin and remove blackhead completely.After tests implemented by clinical technology,this blackhead vacuum can effectively remove blackheads,whiteheads,dead skin,grease and makeup residues,smooth wrinkles and tighten skin.FDA certified and approved,ensure you feel assured during using our beauty device.

✔EFFECTIVE AND SAFE:The pore vacuum suction tool can effectively removes the oil, impurities and dust particles in the large clogged pores;Remove blackhead,grease and acne; it can also increase blood circulation & skin elasticity, tighten up loose skin, lessen wrinkle, shrink pores, reduce grease, skin rejuvenation.

✔5 LEVELS OF SUCTION POWERS :You can easily adjust the most appropriate suction levels for your different skin areas with the 5 levels of suction powers.The light suction level 1 and level 2 are suitable for sensitive and dry skin. Please use it with the small-hole beauty probe for the first time. The medium suction level 3 is for neutral skin. The high suction level 4 is for oily skin, and the strongest suction level 5 is designed for mixed skin with large pores.LED display can easily show you

✔REPLACEABL AND RECHARGEABLE:The 4 replaceable beauty heads including 2* large circular hole head for strong suction,can be applied to blackheads and V face ;1* Oval hole head for enhanced nose blackhead removal,suitable for canthus, the corner of mouth and other areas where easy to have fine lines to prevent the growing of wrinkles ;1* Small circular hole head with gentle suction for sensitive skin area.Rechangeable,built-in lithium battery which only needs to be charged for 2 hours and can be

✔GUARTEE :24 hours professional service team, 45 days full refund, 36 months warranty and lifetime after-sales ervice, worry-free purchase from SROCKER.If there are any problem,please let us know.
5 LEVELS ADJUSTABLE

5 levels adjustable suction makes it suitable for different skin.

USB charging, easy, safe and convenient to use.

Helps remove the pores, blackheads, wrinkles on your face and keep your skin clean, making skin smooth to be rejuvenated. Ergonomic design makes it be more easy and comfortable to hold.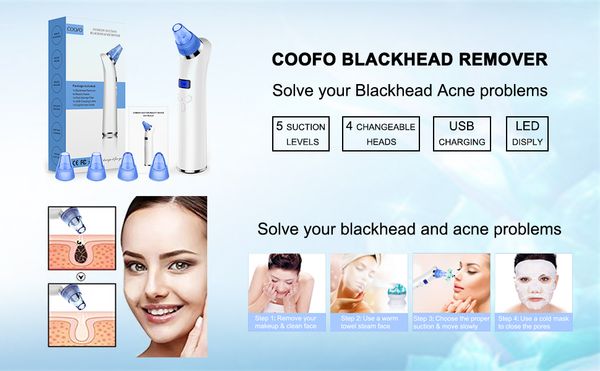 4 REPLACEABLE BEAUTY HEADS
2*Big circular hole head: it can remove blackhead effectively, promoting blood and lymphatic circulation, letting the skin rejuvenate again. Can be applied to blackheads and V face.
Using area: Any area on face except around the eyes.
1*Oval Hole Head: Firming skin, removing fine wrinkles, increasing skin elasticity. Suitable for canthus, the corner of mouth and other areas where easy to have fine lines to prevent the growing of wrinkles.
Using area: Can be used on sensitive area, such as, the area around the eyes, the corner of mouth and also other areas.
1* Small Circular Hole Head: Suction is weak, which can be used to remove blackhead at the sensitive area.
Using area: Can be used on sensitive area such as: the area around the eyes