Bộ dao Stainless Steel Knife Set with Block 17 Piece Set Kitchen Knives Set Chef Knife Set
-14%
1,950,000₫
2,270,000₫
Mô tả
Stainless Steel Knife Set with Block 17 Piece Set Kitchen Knives Set Chef Knife Set with Knife Sharpener, 6 Steak Knives with Bonus Peeler Scissors Cheese Pizza Knife and Acrylic Stand by Home Hero
ALL-IN-ONE COMPLETE SET – A specialized set of kitchen knives for all your chopping needs. Includes 13 Professional Knives, kitchen scissors, bonus peeler, a premium quality 2-stage knife sharpener and a modern knife stand. A true cutlery organizer!

PROFESSIONAL QUALITY AT ITS BEST – The best materials to update your cooking! This stainless-steel knife set gives you superior blades coated with nonstick paint plus ergonomic PP handles. Sharp, sturdy & practical. No rust, stains or pitting here!

A MULTI-PURPOSE KITCHEN DÉCOR MUST – A perfect mix of design & practicality, featuring knives for all purposes: carving knife, utility knife, cheese knife, pizza knife, chef knife, bread knife, paring knife, steak knives. Excellent precision cutting!

ONE OF A KIND STAINLESS STEEL KNIFE SET - Home Hero brings together a unique mix of quality sharpness, great value, durability & professional crafted accuracy. Now anyone, newbie cook or master chef can enjoy cooking much faster, easier, cleaner.

CUSTOMER SERVICE - Please, if you have any questions or issues regarding the Home Hero knife set please do not hesitate to send the seller a message through Amazon we will respond within 24 hours.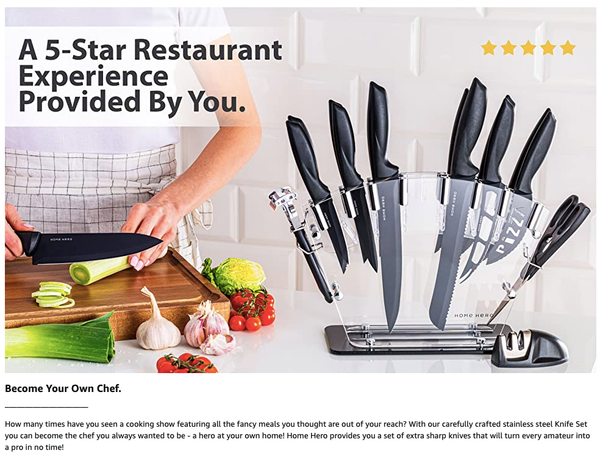 You're One Step Away From Improving Your Kitchen!
_____________________
Tired of constantly replacing and supplying your kitchen with new overpriced knives? Meet your new favorite solution! Our ultimate Knife Set was designed for all of our customers who don't want to settle for low quality with high prices. The set including 13 professional knives, kitchen scissors, a peeler, a premium quality 2-stage knife sharpener & modern knife stand is here to not only meet, but exceed expectations.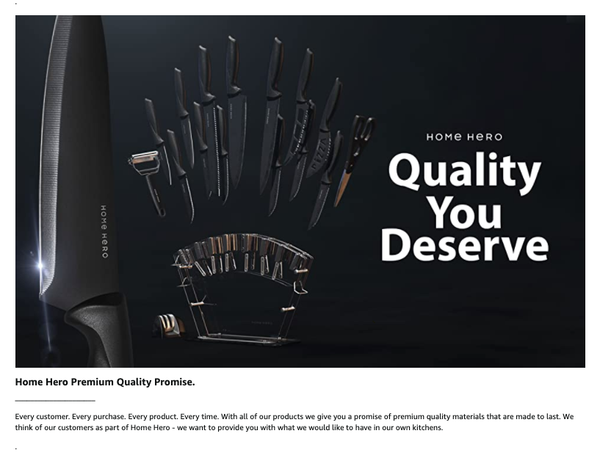 Become Your Own Chef.
_____________________
How many times have you seen a cooking show featuring all the fancy meals you thought are out of your reach? With our carefully crafted stainless steel Knife Set you can become the chef you always wanted to be - a hero at your own home! Home Hero provides you a set of extra sharp knives that will turn every amateur into a pro in no time!
Home Hero is Where Innovation Meets Tradition.
_____________________
As much as we all love innovation, we love to look back at the things we know best, don't we? That's why our designers at Home Hero crafted a modern Knife Set using something we all know - stainless steel. Our premium stainless steel knives are carefully coated with a non-stick paint that make them perfect for any cutting, chopping or slicing without worrying about a thing.
Product information
Size:17 Piece Knife Set
Product Dimensions
14.8 x 4.8 x 11.6 inches
Item Weight
4.74 pounds
Manufacturer
Home Hero
ASIN
B075MD55N1
Item model number
Knife set
Customer Reviews

4.7 out of 5 stars
Best Sellers Rank
#185 in Kitchen & Dining (See Top 100 in Kitchen & Dining)
#1 in Block Knife Sets
Lưu ý: Đây là sản phẩm không có sẵn tại Việt Nam, hàng chờ order từ USA về VN mất từ 2-3 tuần - Khách cần liên hệ qua Fanpage: Tilashouse hoặc Hotline: 0934562607 để được tư vấn quy trình đặt hàng.